How to Choose the Right Sports Shoe
Passionate athletes are always looking for any edge they can get. And once you account for size, skill, preparation, and training, what's left?
Equipment.
While it's true that a $400 pair of shoes won't instantly turn you into an all-star, good shoes and equipment do make a noticeable difference.
And as any athlete knows, even small advantages do have a way of compounding over time. Subtract just one ounce from the weight of each running shoe, for example, and they might not feel any different on your feet. But by the end of a marathon you'll have lifted an extra 13,000 pounds just in shoe weight over the course of your journey—which could add another minute or two to your finishing time.
And the right shoes are about more than just boosting performance. They'll also protect your feet from the rigors of that particular sport, keeping you healthy and comfortable so you can train and play longer, harder, and safer.
So if you want to protect your feet and gain a competitive edge, shoe selection becomes a very important concern.
Here are a few solid tips to get you pointed in the right direction.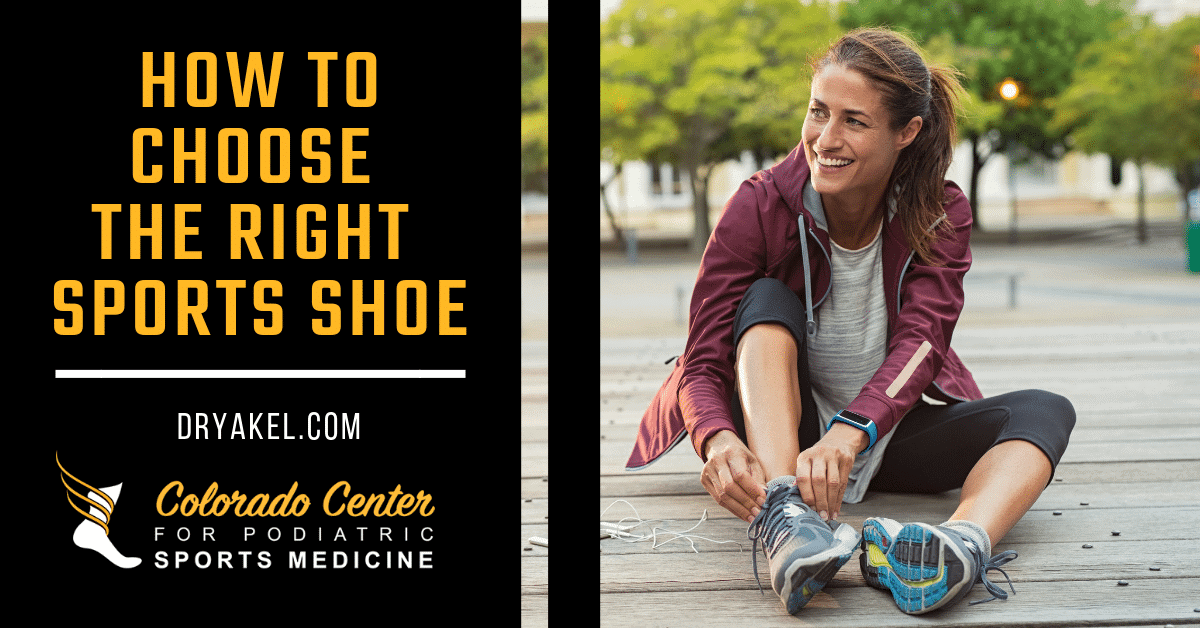 Sport-Specific (and Even Situation-Specific) Shoes Are a Must
We already hinted at this above, but it bears repeating.
Soccer players should wear soccer cleats. Runners should wear running shoes. Basketball players … you get the idea. Always choose a shoe designed for the sport that you play, particularly if you play a sport at least 2-3 times per week (e.g., during basketball season) or regularly throughout the year (e.g., tennis every other weekend).
Simply put, each type of rigorous athletic activity comes with a different set of demands and risk as far as feet are concerned. There's a reason that basketball shoes are tall around the ankles and (relatively) bulky, while running shoes are flexible and light, and tennis shoes are somewhere in between.
You might further consider the needs of your playing style, position, or even pronation style (for runners). For example:
A fleet-footed winger might opt for a lighter boot to minimize fatigue over the course of 90 minutes, while a rugged, physical defender might be better served by cleats with more bulk and ankle support.
A runner who heavily overpronates may need a lot more arch support and perhaps even motion control shoes, while a person with high arches will want as much cushioning as possible.
In general, some of the most important attributes of almost any athletic shoe or cleat is going to be torsional stability and a firm heel counter—or in other words, footwear that isn't going to fold or crumble when you twist it. But beyond that, additional desired features may depend on your sport and your playing or running style.
This is one of those areas where a pro at a specialty store can help you. We can too, since we provide advanced gait analysis services, as well as cleat evaluations for soccer players. If you have any questions at all about the right style of shoe to buy, or what features are going to be most important for you, don't hesitate to give us a call.
Always Test the Fit in Person
In this day and age, online shoe shopping is as popular as ever. But as "convenient" as getting your shoes mailed to your door may be, there is no substitute for fitting your athletic shoe in person. If you want to get the most out of your gear (and minimize your risk of injury), "close enough" just isn't close enough.
And even if the online store has a very generous return policy, returning and re-ordering multiple pairs takes time—and you may be more tempted to accept a shoe that "almost" fits instead of repeating the cycle.
The exception would be if you have a very specific, less common foot shape (extra narrow, for example) that even a specialty store is unlikely to have in stock. But even then, it may help to see what styles are available, try some on, and then order the size you need.
In general, we'd recommend going to a specialty athletic or running shoe store for your shopping. The staff there are likely to be a lot more knowledgeable and able to help you than those at a general shoe store.
Shoes should be comfortable from the get-go—no break in period required. Your foot should feel snug enough (especially with a firm grip around the heel) that it isn't going to slide around on your foot, but with at least a good half inch of space for your toes to freely wiggle at the front of the shoe. A good fit reduces your risk of blisters, ingrown toenails, and other nasty injuries.
Remember as well that every brand and even every style is a little different in terms of their sizing requirements and conditions, so just because you're a "10.5 D" in one shoe doesn't necessarily mean you are in another.
Don't be afraid to re-lace the shoes you're trying on, since the "default" lacing is often too tight, too loose, or not patterned the way you'd generally prefer them to be.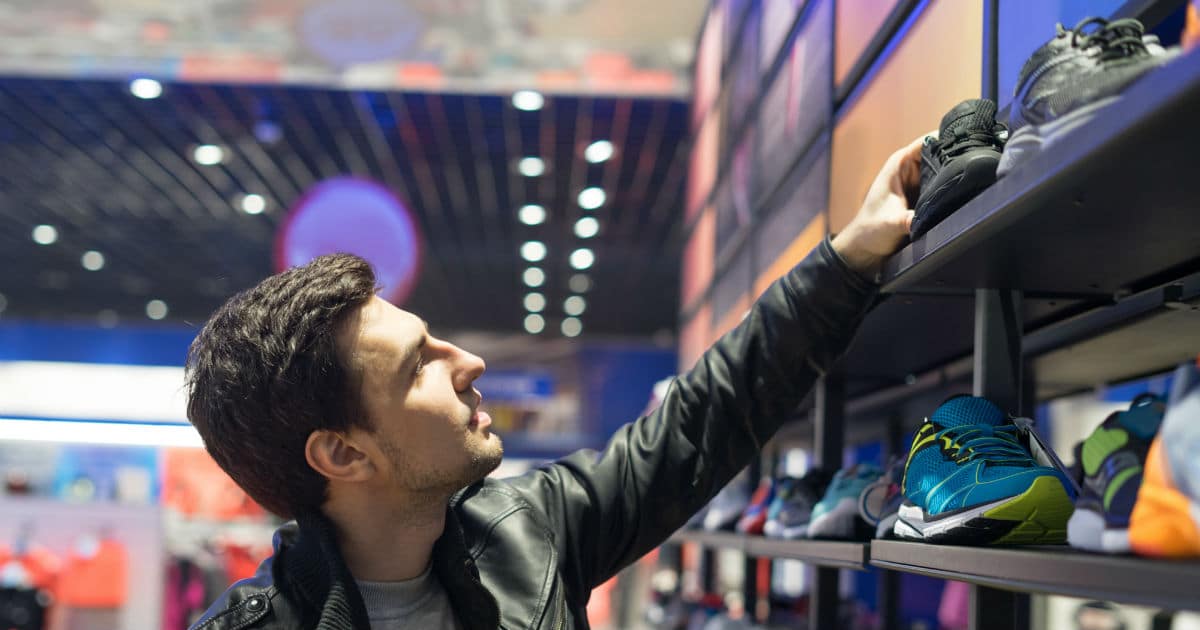 Shop at the End of the Day—or After Your Workout
Here's the thing. Your feet don't stay the same exact size all day, every day.
At the end of a long day, long run, or big game, your feet are going to be a little swollen, and thus a little bit larger than they are when you wake up in the morning. And that means your shoes are going to be fitting a little bit tighter than when you first put them on.
The smart play, then, is to shop for shoes when your feet are already a little bit swollen. That way, you know they're going to be comfortable no matter where you are in your workout.
Bring Your Athletic Socks, Too
Remember, it's not just your feet that you're fitting into those shoes. Your socks add a little bit of width, too, and therefore affect the fit.
So in other words, if all you brought to the shoe store is a heavy pair of winter wool socks, don't expect to get a good fit! Make sure you take along a pair of the exact type of athletic socks you plan to wear with the shoe to get the optimal fit.
Don't Be Afraid to Seek Our Advice
We are Colorado's top experts when it comes to podiatric sports medicine. Dr. Yakel, in fact, is the team podiatrist for the Colorado Rapids.
So we know a thing or two about choosing athletic shoes that minimize injury risk, and we're passionate about keeping athletes on the field, performing their very best.
If you aren't sure what kind of shoes you need—or you find that your current shoes or cleats aren't cutting it and leaving you in pain after every training session—give us a call. We're happy to help you with a gait analysis, shoe recommendations, and any treatments or preventative care (such as orthotics) you may require.
To schedule an appointment at our Longmont office, please dial (720) 600-3380 today.