The right pair of soccer cleats can make a huge difference.
A good pair will feel comfortable, support your feet properly, and facilitate optimal biomechanics. You won't only feel better, but you'll play better, too.
On the other hand, cleats that don't fit, are in poor shape, or just aren't right for your running or playing style can lead to aches, pains, and injuries.
Dr. Yakel and his team are well versed in fitting athletes with the right cleats. And you don't have to be a professional player to benefit.
We care deeply about preventative care, reducing your injury risk and keeping you on the field. We are happy to provide cleat evaluations to players of all levels.
Anatomy of a Good Cleat
It's not just about choosing the right size and fit. It's important to consider each part of the cleat, separately and together.
Uppers
The upper includes the entire portion of the top of the shoe, and most fulfill many roles for a soccer player. The upper is critical for side-to-side foot stability, is responsible for most of the "feel" for ball control, and also includes the vamp, which is the primary strike zone for launching shots and crosses.
Traditionally made from leather, newer cleat uppers are often made from synthetic materials to reduce weight and increase water resistance—but if it comes at the cost of foot stability, it might not be a worthy trade-off.
Insoles
The top layer of material on the inside of the cleat, under your foot. The main job of an insole is to provide soft cushioning and comfort and improve the fit of your foot inside the shoe.
Some cleats have built-in, attached insoles. This can have advantages if you have a very typical foot type, but typically you'll want a pair with removable insoles. This will allow you to replace them with a set of sports insoles (or custom orthotics) better matched to your specific needs and foot shape.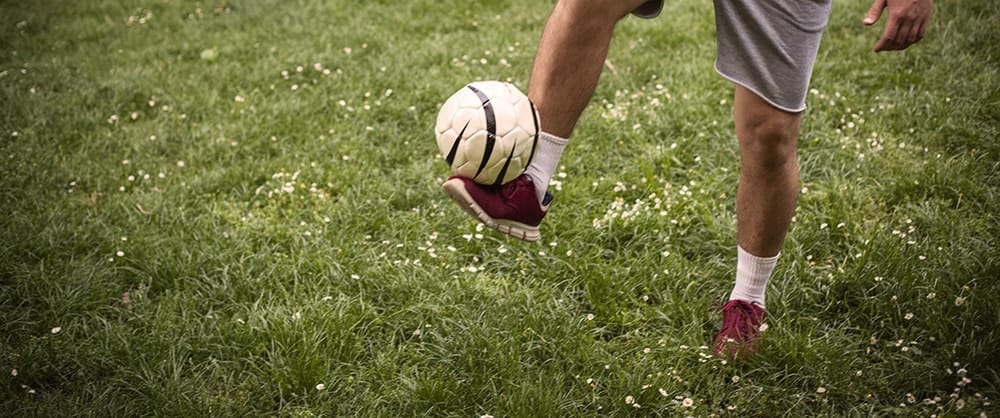 Midsoles
Midsoles sit between the insole and the bottom of the cleat, and provide the fully build-in arch support and shock absorption for your feet. The midsole also helps the cleat keep its shape. They are often made from foam materials.
Midsoles do wear down over time. If they become compressed and lose their ability to absorb shocks efficiently, it is time to replace your cleats—even if the exterior portion of the shoe is still in good condition.
Heel Counter
The back of the shoe needs a firm heel counter to laterally stabilize the back of the foot and protect against accidental kicks and impacts. Some cleats put the heel counter inside the upper; others use external heel counters to the outside of the upper and outsole. There are advantages and disadvantages to each approach.
Sole Plate / Outsole
This is the bottom, exterior layer of the shoe, where the studs (or "cleats") are attached. Different players have different opinions about how rigid the sole plate should be—while firmer sole plates might be more uncomfortable and harder to "break in" for some players, they are also more responsive and provide extra "spring" when you push off.
Studs / Cleats
The studs on the bottom of your cleats provide grip and traction on the field. You have many choices when it comes to studs. They vary in materials (soft plastic vs metal), shape (bladed vs conical), and even the number and general arrangement across the bottom of the shoe. Most studs are fixed, but others are detachable or adjustable.
Picking the Right Pair
Although it's fair to say that some pairs of cleats are objectively better than others, the truth is that there's no one, perfect pair for every player. The best set for you personally will depend on many factors, including:
The shape of your foot
Your foot and ankle biomechanics
What kind of turf you usually play on
What position you play
Whether or not certain cleat styles are against your league's rules
Whether or not you need to wear custom orthotics
You may consider other aspects of the shoes as well. For example, a higher collar around the ankle may provide extra support and stability, but at the cost of agility and weight.
If you're experiencing pain on the field and you think your cleats may be to blame, make sure you take them along with you to your appointment with the Colorado Center for Podiatric Sports Medicine. We'll help you figure out what might be wrong with your current pair, and help you find a better set for your game—and for your feet!
To schedule your appointment, please give us a call today at (720) 600-3380.