Heel pain symptoms are extremely common among all types of athletes and active people. No matter how old (or young!) you are, no matter what sport your play, aching heels sometimes come with the territory.
However, heel pain is just a set of symptoms—not a condition in and of itself. In fact, there are many different conditions that can cause heel pain.
Because of these, each case needs to be carefully evaluated by a podiatric sports medicine specialist. The best treatment course may be quite different depending on your age, diagnosis, and lifestyle goals!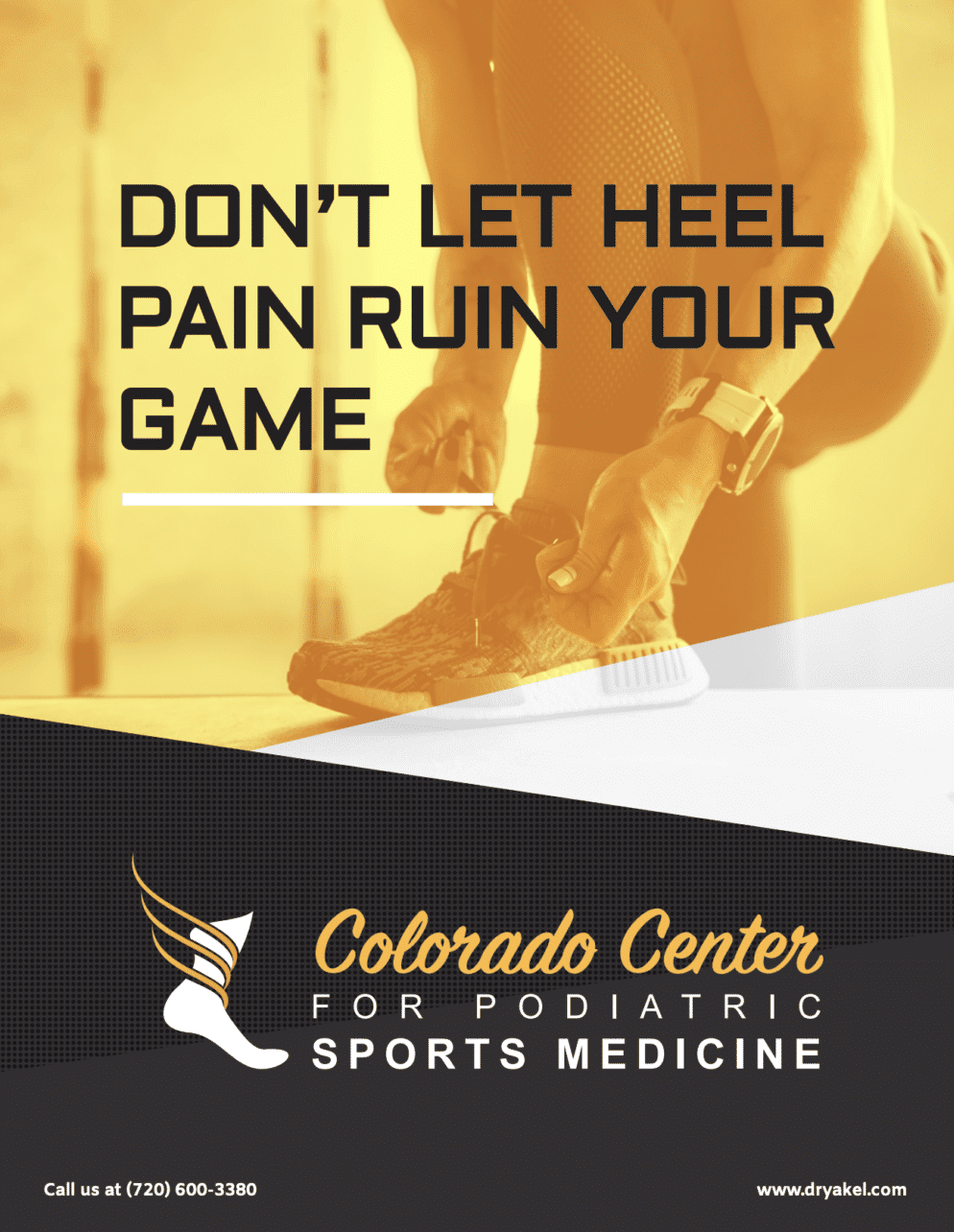 Download Our Free Heel Pain E-Book!
Living with heel pain can cause you to be on the sidelines during your favorite activities. Don't let it ruin your game any longer. Download our free ebook to learn about heel pain causes and treatments. 
Heel Pain in Youth Athletes
Heel pain in kids who are still growing is often very different from heel pain in adults.
Unfortunately, parents and coaches often don't know what's going on or understand the differences. As a result, the young athlete may be pulled out of the game unnecessarily, or take longer to return to full strength.
With kids, the most common cause of heel pain is Sever's disease, also known as calcaneal apophysitis. Until kids reach skeletal maturity (around 14-17 for girls and 18-22 for boys), the ends of their bones are capped by growth plates. They are softer than the surrounding bone and, true to their name, are responsible for increasing the length of the bone.
Growth plates in general are more fragile and susceptible to inflammation or cracking, and the growth plate located along the heel is particularly vulnerable for active, growing kids. Impact forces from sports, and even tight muscles and tendons that attach to the heel bone, can cause pain.
The last thing your kid wants is to be pulled out of the game—and lucky for him or her, Dr. Yakel agrees! After a diagnosis of Sever's disease is made, he can provide treatment options to help them ease the strain and pain so they can play their best. Orthotics are usually the best and quickest option, alongside stretching exercises, icing, and heel lifts.
Heel Pain in Active Adults
Once the skeleton reaches maturity, Sever's disease is no longer an issue. But that isn't the end of heel pain, of course.
The most common heel pain diagnosis in adults is plantar fasciitis, which refers to swelling and tearing of the plantar fascia ligament on the bottom of the foot. The pain from this condition is often especially worse right after getting out of bed and after periods of sitting.
Other conditions that can cause heel pain include Achilles tendinitis, stress fractures, bone spurs, bursitis, and many others.
Aggressive Treatment to Keep You in the Game
Athletes aren't always known for their patience! The competitive drive is fierce, and no one wants to miss more time than they need to. Unfortunately, putting off treatment, or taking things too fast, can often prolong an injury or make it worse.
At the Colorado Center for Podiatric Sports Medicine, we share your passion. That's why we offer aggressive and effective treatment solutions for heel pain.
Our goal is always to help you get back to what you love as quickly as possible, and help you stay as active as possible during your recovery.
We offer many advanced treatment options you might not find in a typical everyday podiatry clinic. That includes, for example:
Segmental foot assessment and pressure mapping, a system that uses pressure sensors and computer technology to analyze weight and pressure distribution and biomechanics across all areas of the foot. It's extremely useful for diagnosing specific foot structure or gait abnormalities, as well as fitting orthotics.
Custom orthotics for athletes. Custom orthotic inserts give your feet the exact cushioning, support, and stabilization they need to relieve pain and improve performance on the field. In addition to general purpose athletic orthotics, we also offer soccer-specific orthotics that manufactured by the same lab used by the U.S. men's and women's national teams.
Shoe and cleat evaluations to determine whether you have the correct gear for your feet and sport.
A variety of state-of-the-art techniques and equipment that can trigger and accelerate healing processes for chronic heel pain conditions. Ask our staff about the advanced options we provide!
We are there for you 100% of the way, from evaluation and diagnosis to treatment and recovery, to ensure you receive the best possible care.
To schedule an appointment, complete an online contact form or call us today at (720) 600-3380.