How to Prepare for the Upcoming Sports Season
Work. School. House chores. Bad weather.
There are plenty of obstacles that have kept us from doing the things we love over the past few months, including playing our favorite sports. Most of us have been relying more on our couches and TVs to keep us entertained while we ignore that itch to get back out there on the track or field.
Thankfully, warmer weather is finally here, and you're probably already half-way out the door with your lucky kicks in hand to start practicing for the win.
Are Your Feet and Ankles Ready?
We certainly hope that you have stayed at least somewhat active throughout the winter months – this means that you may have maintained a "higher" level of endurance, flexibility and strength. However, the general lack of physical activity that tends to span the three to four-month period in the winter season means your fitness level is likely to have decreased.
Why does this matter? If you just get out there and work hard enough, you will be back in shape in no time, right?
Well, that's where things get dangerous.
When you go from your couch to giving it your all on the field, your body (including your feet and ankles) is not prepared to endure the strain and impact. The chances of getting injured become higher than you might ever expect. In fact, over 40 percent of foot and ankle sports injuries experienced by athletes each year could have been avoided if proper conditioning was taken into consideration before getting back into their sports of choice.
And there is nothing worse than being sidelined for the rest of the season because of an injury that could have been easily avoided in the first place. So, what should you be doing now to get ready to compete in a few weeks?
Preparing Your Feet and Ankles
From ankle sprains to stress fractures, being active comes with a very real possibility of experiencing foot and ankle injuries. And no matter what sports you intend to pick back up this season, you should handle your body with care. This means gradually and appropriately training your feet and ankles to sustain the tremendous amount of force they will endure as you charge towards your goal.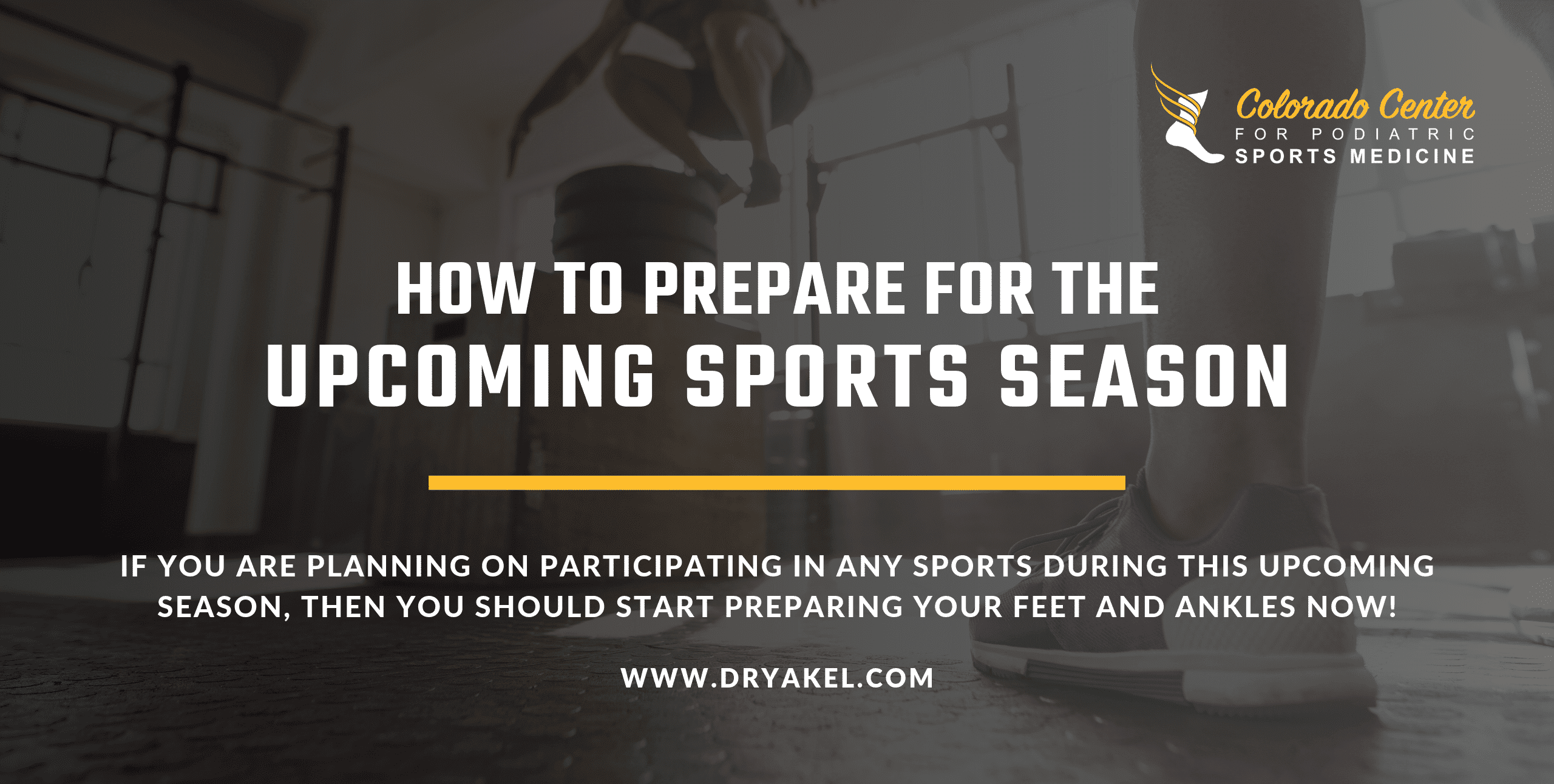 Here are some things you should do to better prepare your feet and ankles for the job:
Always warm up before starting activities. Whether you're casually shooting hoops or participating in a competitive sporting match, warming up is an important first step in preparing your feet and ankles for strain and impact. But not only that, doing so will increase your overall performance. A warm-up could include a combination of light jogging and stretching.
Strengthen and condition your feet and ankles a few weeks prior to starting a new sport. Regularly conditioning the muscles and joints in your feet and ankles usually involves targeted strengthening exercises and stretching. Conditioning is a gradual process that helps you build muscle, improve balance, increase flexibility and range of motion, and stabilize your joints to avoid injury.
Protect and support your feet with proper footwear. Your feet are the foundation to your body – to perform well in activities, they need footwear that corresponds with the activity. The right shoe will provide support, comfort and withstand the physical demands of the sport in question. It is also important to replace shoes once the heal or tread has been worn down.
Gradually increase activity levels. If you aren't regularly engaged in sports or don't maintain a consistent fitness routine, then you should gradually increase your activity levels. Playing a sport at a high intensity level (particularly sports with a lot of running and jumping), places a lot of stress on the unconditioned muscles and joints in the feet.
Be wary of your surface. Running or training on uneven surfaces increases the likelihood of injury. Exercise caution when running along nature trails (avoid any loose debris and obstructed terrain), uphill and downhill.
Never push through pain. It is crucial that you always listen to your body. If you experience pain while active or lingering pain after completing activities, seek medical attention as soon as possible. Pushing through pain could result in injury or worsening of an existing injury.
Now that you know how to keep your feet and ankles healthy and safe during this sports season, we hope that you can steer clear from injuries now and in the future. However, we also understand that sometimes injuries happen despite heeding all preventative measures available. And if you ever experience a foot or ankle injury, you can count on our team of experts to get you back on your feet as quickly and as safely as possible.
We Provide Expert Sports Medicine
When you come visit our office, we will perform a thorough evaluation of your feet and ankles in order to properly diagnose your condition and provide the most effective treatment available for your specific case. Maybe all you need is a good pair of orthotics, or maybe a more advanced treatment method, like MLS laser therapy, is best to eradicate your condition – at Colorado Center for Podiatric Sports Medicine, we can help you today!
You can reach us by phone at (720) 600-3380, or online by filling out our handy request form.