WHAT IS SHOCKWAVE THERAPY?
Shockwave therapy, which is also known as Extracorporeal shockwave therapy (ESWT), is based on a unique set of pressure and sound waves that stimulate the metabolism, new blood vessels, and accelerates the healing process.  In the 1980's, it was used to break up kidney stones, or now referred to as lithotripsy which are high energy units.  In the 1990's it was introduced in the orthopedic market for nonunion of fractures, then in 1995, the lower energy devices were introduced to the sports medicine world. Explosive events like a lightning strike or sonic boom from an airplane create shockwaves transmitting acoustic wave energy and the same concept is utilized in the medical world. The energy created by today's machines transmitted into the body initiate a therapeutic effect on tissue by sending a "bullet" through a hand help applicator.   It is the most advanced and highly effective non-invasive treatment method cleared by the FDA.  In a nutshell, the energy waves stimulate tissue repair at a biological level. 
WHAT DISORDERS CAN BE TREATED IN THE FOOT AND ANKLE?
Generally, any acute or chronic musculoskeletal pain that impairs mobility in tissues such as ligaments, tendons, muscle, and joints. The following conditions are often treated with ESWT:
Heel pain
Achilles pain
Posterior tibialis tendonitis
Peroneal tendonitis
Neuromas
Shin splints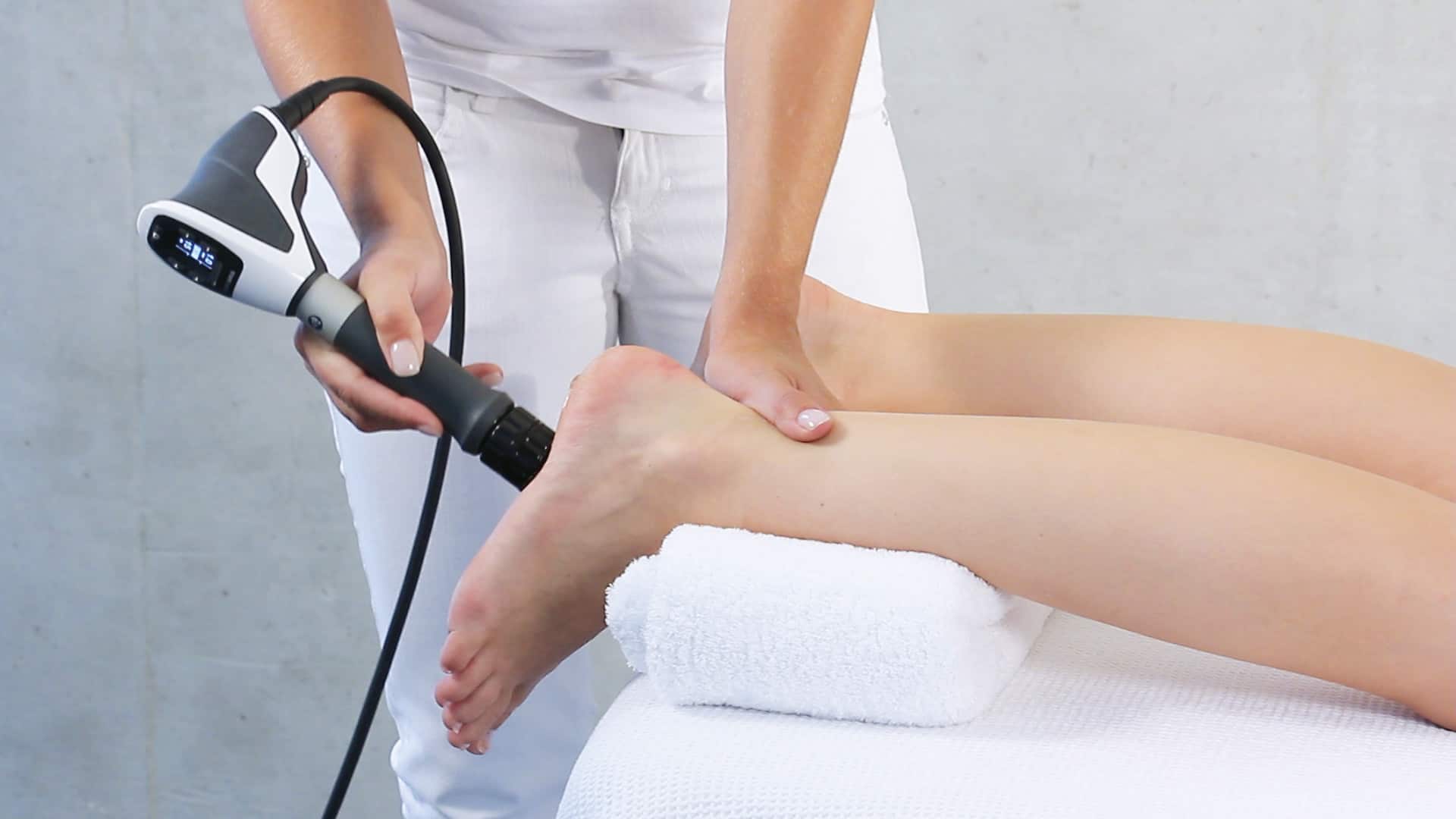 WHAT ARE THE EXPECTED RESULTS?
Some patients report immediate pain relief after the treatment, although it could take 4-5 weeks for pain relief to begin. Over 80% of patients treated report to be pain free and/or see significant pain reduction.
HOW IS TREATMENT PERFORMED?
A coupling gel is applied to the treatment area to increase the effectiveness. The pressure waves are then released into the tissues from the applicator over the area of pain. Initially, the radial unit is used followed by the focused unit.
IS IT SAFE?
Yes!  The FDA-cleared technology was initially developed in Europe and is now currently used world wide.  Multiple evidence based studies have confirmed the safety and efficacy.
WHAT IS THE DURATION OF TREATMENT AND HOW MANY TREATMENTS WILL I NEED?
Treatment sessions take 15-20 minutes depending on the disorder being treated.  As mentioned above, the radial unit is used first followed by the focused shockwaves. Generally, 4-5 weekly treatment sessions are necessary .
IS SHOCKWAVE THERAPY PAINFUL?
Treatment can be a little uncomfortable, but not painful.  Treatment is sensory based depending on the individual.  A shockwave is being directed into inflamed tissue, and one of the advantages of the treatment is reduces the mechanical sensitivity of the surrounding nerves causing some numbness to the tissue. After the treatment, there can be some tenderness for the next 24-48 hours.
WHAT ARE THE POSSIBLE SIDE EFFECTS OR COMLICATIONS?
This non-invasive treatment virtually has no risks or side effects.  In rare cases, some patients may experience some minor discomfort which may continue for a few days.  It is normal to have some residual pain after intense exercise or a full day of work.
WHAT IF I HAVE A SPECIAL HEALTH CONDITION?
The safety and effectiveness of ESWT has not been determined on people with MALIGNANCIES, or DVT.  
WHY CONSIDER NON-INVASIVE ESWT?
ESWT has a proven success rate that is equal to or greater than that of traditional treatment methods, including surgery, and without the risks, complications, and lengthy recovery.  It's performed in an office setting, does not require anaesthesia, and requires minimal time.  Patients can bear weight, return to normal activities within 24 hours, and resume strenuous activity in 4 weeks.  It has an 80-85% success rate, and speeds the recovery by 40%. If you have acute or chronic pain, this is an excellent option to avoid surgery.
IS SHOCKWAVE THERAPY COVERED BY INSURANCE?
ESWT is not covered by insurance plans so it is a cash pay service.  Treatments are sold as packages or individual sessions.  Considering cost of a surgery or multiple physical therapy sessions, the cost of an entire treatment plan is much less.  
WHY SHOULD I CONSIDER SHOCKWAVE THERAPY?
Shockwave is a safe, noninvasive, non-anaesthetic treatment for acute and chronic injuries of tendons, ligaments, muscles, and even some bone issues.  The scientific evidence supports the effectiveness of it.  There is no down time after treatments so you are not asked to avoid activity. It has few, if any side effects. ESWT has an 80-85% success rate and decrease recovery time by 40%.